Some people choose to see the glass half full, regardless of the adversity or circumstance.  They are born to lead, to inspire, to motivate.  They carry the rest of us across the finish line when we've long since given up on the race. They're dreamers.  They make the impossible possible, and, to quote the late Sir Winston Churchill, they see the opportunity in every difficulty.
Spend any time at all with former Boston Celtics player / coach / general manager Michael Leon Carr and it's hard not to pick up on that type of positive vibe, the kind that makes you feel reinvigorated and ready to take on the world.  Maybe it's because M.L. Carr has spent his entire life overcoming, proving the doubters wrong, and reaching heights that others would have thought unimaginable.
It's a circuitous route to success, one that started at tiny Guilford College in Greensboro, North Carolina, and continued with a fifth round selection in the 1973 NBA Draft. Picked by the Kansas City Kings, Carr also found himself selected by the Kentucky Colonels of the now defunct American Basketball Association.  For a good-but-not great player aspiring to a career in professional basketball, the future did indeed look bright.  However, the eternal optimist from Wallace, North Carolina, quickly learned that the path wouldn't be easy.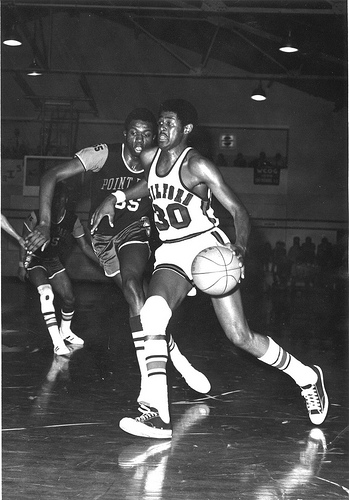 "I spent three years trying to figure out how to get into the NBA or the ABA," Carr says from his corporate office in Huntsville, Alabama.  "I was cut from three teams, including the Kings and the Colonels, and I ended up playing that season in the old Eastern League. Then I was contacted by Red Auerbach of the Boston Celtics, who wanted to hide me for a year.  He saw something in me, so he asked me to go overseas to play basketball.  And that's what I did.  I packed my bags and went to Israel, where I played for a team called the Israel Sabras."
Carr's play in Israel helped him to grow as a player, and in the process get noticed by basketball executives in the States.  Carr led the Sabras to the league title, topping the league in scoring and finishing second in rebounding en route to being named Most Valuable Player.  Flush with options, Carr decided to sign a one-year contract with the Spirits of St. Louis in the ABA.
"St. Louis was a great learning experience for me," Carr says.  "I played with a great group of players, but we weren't a great team. We didn't play together.  It was one of the greatest teams ever from a talent standpoint – a young Moses Malone was on that team. Caldwell Jones.  Marvin Barnes. Don Chaney.  Mike D'Antoni.  It was a great team, talent-wise, but we just didn't put it together that year.  There was a lot of turmoil. Our head coach was Rod Thorn, but by the end of that year the coach was Joe Mullaney."
Carr's brief career in the ABA yielded season averages of 12 points and 6 rebounds, earning him a spot on the league's All-Rookie team.  The NBA took notice – specifically, the Detroit Pistons of the NBA.  The courtship was fast and furious, and Carr wasted little time signing his first NBA contract.  He would play three seasons in a Detroit uniform, two of those for Herb Brown and one for Dick Vitale.  Unfortunately for Carr, the Pistons had future Hall-of-Fame center Bob Lanier but not much else.  While the Pistons were anything but one of the league's elite, Carr enjoyed his time in Detroit and has nothing but fond memories of a certain coach-turned-announcer.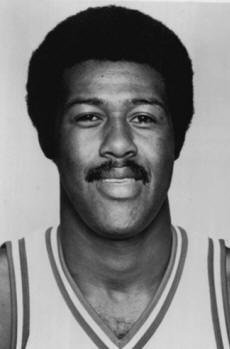 "Dick was a very animated coach," Carr says.  "It was his first pro coaching job.  He'd come over from the University of Detroit, and he was just like he is now as an announcer – intense.  There's one thing I'll always thank Dick for – he allowed me to play the third most minutes in the league that year, which was my free agent year. That helped me achieve my dream of becoming a high-paid athlete."
That big contract, of course, came courtesy of the Boston Celtics.  Auerbach, true to his word, continued to keep tabs on the swingman who had led Guilford College to a small college national championship.  He saw Carr as a key piece in a rebuilding puzzle, and the Celtics had plenty of rebuilding to do. Boston had won two NBA Championships during the 1970s, with John Havlicek and Dave Cowens serving as the cornerstones of those titles. With Havlicek retired and Cowens breaking down, the Celtics were coming off a 29-win season, and also one of the most tumultuous in team history.  Fortunately for Boston fans everywhere, Auerbach had gambled on a certain junior-eligible from French Lick, Indiana, and the wait for Larry Bird was finally over.
"When I got there Dave Cowens was making every effort to be a part of the rebuilding process.  Tiny Archibald was coming back from an off year.  Gerald Henderson was there.  Cedric Maxwell.  And then we had this young kid from French Lick who was coming in and was supposed to be a heck of a player.
"So there was a lot of optimism at that time.  There had been a lot of turmoil the year before, and there were decisions made to overhaul the team and to get rid of all the guys that were causing all of the problems.  Red wanted good players but he didn't want to sacrifice character in the process.  So as we put that thing back together we had a very good year.  We didn't win it, but we came very, very close.  And for me, it was a dream-come-true because Pete Maravich played on that team and he was my childhood idol."
The Celtics would finish 61-21 that season, losing to rival Philadelphia in the 1980 Eastern Conference Finals.  It was a learning experience, and one that would set the stage for a rematch with the 76ers the following season.  Down 3-1 in the 1981 Eastern Conference Finals, the Celtics rallied to take the epic series 4-3 and advance to the 1981 NBA Finals against the Houston Rockets.
"Red just kept telling us to focus on one game at a time," Carr says, recalling the dramatic comeback against the Sixers.  "Those last three games were all nail-biters, but we just stayed focused and did what we had to do.  We knew we had the talent – we had Larry, we had Robert Parish and Kevin McHale. We had Nate Archibald.  Cedric Maxwell.  So we just went out there and took care of business.
"I remember getting fouled by Dr. J late in Game 5 and going to the line.  I needed to hit those free throws or the season was over.  The Sixers called timeout to try and ice me, and I remember Cedric Maxwell coming over to me and telling me to relax.  He told me that if I hit the shots that we'd play on in the next game, and that if I missed them we'd start our vacation early.
"It was an incredible comeback.  And we knew when we took that series that we were going to win the NBA Championship.  The NBA Finals was anticlimactic in that respect, because we'd just beaten the team we felt posed the biggest obstacle."
And just like that, Carr was on top of the basketball world.
"As a Celtics fan growing up, and knowing the mystique of the franchise, it was the greatest feeling in the world to win that championship. After being cut from all those teams and having to play in Israel, it was such a rewarding experience to finally be recognized as the best.  I'll never forget it.  And the fact of the matter is, we knew that we were going to beat the Houston Rockets.  We knew they couldn't hurt us.  We were the best team in the league and we just had to go out there and do it.  There's not another feeling in the world like winning a championship.
"I remember coming back from Houston, and going through the airport.  The fans were unbelievable.  They were going absolutely crazy, I'd never witnessed anything like that. And then that parade and seeing all of those fans – it was surreal because I'm a history major and I knew what had happened just three years earlier in Boston.  It was the height of busing in the city, and I vividly remember the young black man being poked with the American flag, the racial tensions in the neighborhoods, and all of that was resonating with me as we traveled that parade route and saw all of those fans cheering us.  Cheering me!  I mean, here I am traveling the parade route as a hero, as a black athlete, and all of these fans celebrating our accomplishment on the basketball court. And I remember thinking at the time how great it would be to bottle this.  Today Boston is one of the greatest cities in the world.  I like to think our championship played a small part in putting those dark days behind it."
The Celtics would win another championship in 1984 with Carr on the roster, defeating the hated Lakers in seven games.  It was a classic, one of the greatest ever played – Bird versus Magic, blue collar versus Showtime, East Coast / West Coast.  It remains one of the highest rated NBA Finals in league history.
"Our motto that year was 'Don't Be Denied'," Carr says.  "More than anything, what stands out now was the last seconds of that final game.  No one believed we could beat the Lakers.  No one.  They were the thoroughbreds and we were the Clydesdales.  It was a very physical series.  McHale's hit on Rambis, Bird knocking Michael Cooper backwards, so many memories.  We knew we had to physically beat them up.  You had Jack Nicholson giving us the choke sign.  East Coast / West Coast.  It was a series that truly captured the world's attention. Being in the Boston Garden with twelve seconds left on the clock, there's nothing like it.  I get chills today just thinking about it."
And did Carr's positive attitude help influence that series?
"I feel that I played a major role from the standpoint of motivating players.  Telling them that we need to seize the moment today.  Using the towel as a motivator.  Taking the heat off the other Celtics players – there were times when I would take the pressure off the guys because I brought a bravado that antagonized a lot of the opposing players. I think that helped take the heat off of Larry, Robert and Kevin.
"My attitude the whole time was that we expected to win. That was my message during the series, and that was what I told anyone who would listen afterward.  So I think I had an effect and I think I contributed to that championship.  I remember going to LA after that series was over and walking into a restaurant – and the waiter wouldn't serve me.  He told me he wouldn't serve me because I waved my white towel and got under his skin.  I told him that was great, because I didn't want his greasy burger anyway."
Carr's NBA career would end 47 games into the 1984-85 regular season, but his work with the Celtics wasn't done.  He remained connected with the team, and in 1994 was named the team's general manager.  He also coached the team for two seasons – 1995-96, and 1996-97.  It was a dark period in team history – Bird, McHale and Parish were long gone, and the team had lost budding star Reggie Lewis to a heart attack during the summer of '93.  Still, Carr worked hard to restore glory to the once-proud franchise as GM.
"I got that opportunity because I was trying to purchase the team from Paul Gaston," Carr says.  "Paul didn't have an interest in selling at that time, so he approached me about running the team.  He said that anyone who was chasing him as hard as I was in terms of trying to buy the team could definitely work for him running it [laughs].
"It was a great experience because it gave me an opportunity to give back to the fans who had been so good to me through the years, and it gave me a chance to help the Celtics through a tough time.  The talent just wasn't there.  Eventually I decided to coach the team because I felt it would help me better assess the personnel on the roster.  Red Auerbach tried to talk me out of it because he felt that I was going to take some hits.  The franchise was really down, and it was on a downward trend.  The best coach in the world can't win if the talent isn't there.  But the plan was to coach long enough to get some building blocks in place and then hand it over to someone else.  It was a tough job, but I wouldn't trade the experience for anything.  I truly enjoyed it."
Today, Carr's focus has moved to the business world, where he is the President and COO of The Dream Company, LLC, which focuses primarily in the insurance arena.  The Dream Company provides risk management solutions in the life, disability and long-term care markets.
"We are an insurance marketing firm," Carr says proudly.  "What we've been able to do is take an online delivery system that we've built in-house and allow institutions to use it – non-profit organizations, colleges, religious organizations, multi-level marketing firms – and allow them to sell a term-life product as a fund-raiser for those institutions.  In other words, you buy a policy and you are able to donate a portion of that to your affinity group.  For example, in my case that affinity group could be the University of Guilford College.  It's a very innovative product, and one that has to potential to raise an enormous amount of money for those types of institutions."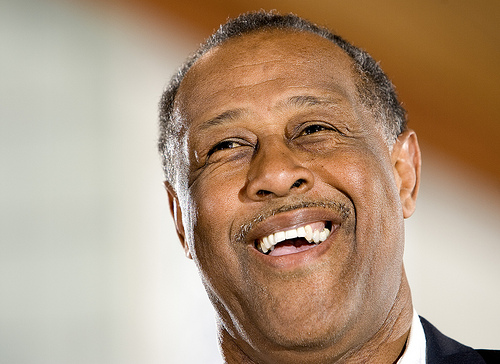 While Carr may find himself in the corporate world now, his heart will always be with the Celtics.  He stays connected to many of his former teammates, including Bird, and he catches the games on TV.  He loves what Danny Ainge has done with the team, and is convinced that Ainge has what it takes to rebuild the Celtics once again.
"Danny's a very bright guy," Carr says quickly.  "He knows what he's doing, and he has the right attitude when it comes to running a team.  It's important to stay positive and focused on the ultimate goal, even when everyone else around you might be calling for your head."
The following two tabs change content below.
Michael D. McClellan is the Editor-in-Chief, Celtic Nation. He is also the author of "Boston Celtics - Where Have You Gone?", published in 2005 and re-released in 2012 with new and updated player profiles. Michael has interviewed more than 70 former players and coaches, and is currently working on a new Bill Russell biography.
Latest posts by Michael McClellan (see all)