From childhood "Pistol" Pete Maravich mesmerized fans and opponents alike with audacious ball handling and prodigious scoring. Julius Erving called him "a basketball genius." The mop-topped, floppy-socked prodigy was a legend at LSU, averaging a staggering 44.2 points per game — the highest in NCAA history. Then a brilliant pro career with the Hawks, Jazz and Celtics led to enshrinement in the Hall of Fame and selection as one of the top 50 players in NBA history.
And then, on January 5, 1988, everything changed.
Maravich, playing a pickup basketball game in the gym at a church in Pasadena, California, collapsed and died due to a rare congenital defect; what would be learned during the autopsy was that Maravich had been born with a missing left coronary artery, a vessel which supplies blood to the muscle fibers of the heart.  His right coronary artery was grossly enlarged and had been compensating for the defect.
"Pistol Pete is a legend to all who understand the history of basketball." — Jason Kidd
The death stunned both the sports and medical worlds.  Pistol Pete had been living on borrowed time.  It was called a medical miracle that he survived his teens, let alone go on to become a superstar athlete.
As hard is it is to believe, January 5, 2013, marks the 25th anniversary of Pistol Pete's tragic death.  A life cut far too short, especially for those closest to him.
And yet through the pain and sadness of this loss, there is a ray of hope for those who never saw Maravich play, who never witnessed his on-court brilliance, who never experienced the basketball wizardry that to this day defies logic.
That ray of hope comes in the form of the definitive biography of "Piston" Pete Maravich by Wayne Federman and Marshall Terrill, Maravich.  Published in 2006 with the help of Jackie Maravich, Pete's widow, Maravich is a sweeping account of a true sports icon.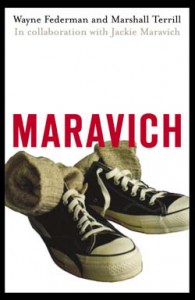 Praise
Its labor-of-love enthusiasm is infectious, and it's essential for Maravich completists, especially for the reassessment of his pro career and for anecdotal feats of basketball wizardry." - New York Times Review of Books
The book is available on Amazon.Com, and is a must-read for anyone wanting to learn more about the great "Pistol" Pete Maravich.
Click here to read the book excerpt.
About the authors:


Wayne Federman is an actor, comedian, and writer.  He is noted for his numerous stand-up comedy appearances in clubs, theaters, and on television; his biography of "Pistol" Pete Maravich; and his supporting comedic acting roles in The X-Files, The Larry Sanders Show, Curb Your Enthusiasm, Legally Blonde, 50 First Dates, The 40-Year-Old Virgin, and Step Brothers. He was the head monologue writer for NBC's Late Night with Jimmy Fallon in its first season.  Wayne co-wrote and starred in the short film Max and Josh, which premiered at the 2006 Sundance Film Festival. He resides in Los Angeles.

Marshall Terrill is a veteran reporter editor and public relations consultant.  Of his dozen books, three are best-selling biographies on the lives of Steve McQueen, Elvis Presley and "Pistol" Pete Maravich.  His books have been reviewed in USA Today, People, Vanity Fair, The New York Times, The Los Angeles Times, The Washington Post, US Weekly, The London Times, The Chicago Tribune, The San Francisco Chronicle and OK Magazine.
The following two tabs change content below.
Michael D. McClellan is the Editor-in-Chief, Celtic Nation. He is also the author of "Boston Celtics - Where Have You Gone?", published in 2005 and re-released in 2012 with new and updated player profiles. Michael has interviewed more than 70 former players and coaches, and is currently working on a new Bill Russell biography.
Latest posts by Michael McClellan (see all)