ROYAL TREATMENT
The Arnie Risen Interview
By: Michael D. McClellan | Wednesday, December 13th, 2006

---
He battled George Mikan during the early days of his professional career, and he teamed with Bill Russell in its twilight, his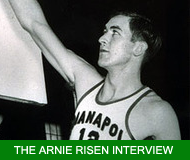 contributions to the game obscured by basketball's most dominant big men of the twentieth century. Arnie Risen is understandably cool with this. The shadows cast by Mikan and Russell swallowed their eras whole, and Risen is not alone among the forgotten. The wooden barn that was Edgerton Park Sports Arena is long gone, the games but fading memories to a vanishing breed of NBA fan. Risen played professional basketball at a time when the game itself was dwarfed not only by our national pastime, but also by a collegiate game that included such legendary coaches as Adolph Rupp, Phog Allen and Slats Gill. Football had grown in popularity by showcasing big names on its gridiron, promoting early stars like Red Grange and Jim Thorpe, while boxing boasted a lineage that ran from Jack Dempsey to the Brown Bomber himself, the incomparable Joe Louis. But professional basketball? It was more curiosity than sporting staple, more sideshow than main attraction. The average sports fan was more concerned with the exploits of men like Lou Gehrig, Ted Williams, and Warren Spahn. Professional basketball players? In the mind of the average sports fan, guys like Arnie Risen existed to fill a void.
Risen of course, was much more than that. A 6'-9" center known affectionately as "Stilts", Risen was as skilled as any big man in the league, hauling down rebounds while twice leading the Rochester Royals in scoring. In 1949, Risen led the NBA in field goal percentage while finishing as the fourth leading scorer. He played on three professional circuits over a thirteen year career – the National Basketball League, the Basketball Association of America, and, after these two leagues merged, the National Basketball Association. In 1949 he was All-NBA Second Team, behind only Mikan at his position. In 1952 he began a string of four consecutive All-Star seasons, becoming Rochester's franchise player in the process.
And then there are the championships, the first coming in 1951 as the Royals' starting center, the second coming six seasons later as a backup to the great Bill Russell. A key component in one, a complimentary player in another. Friendships and memories to last a lifetime. Risen may not have been the most recognizable player of his era, but he wouldn't trade places with anyone. Who else can claim to have battled Mikan in the paint, slapped Russell on the back, or to have played championship basketball in the game's holiest cathedral – the Boston Garden? Who else can say that they had a hand in raising that first championship banner to the Garden rafters? Or playing for the legendary Red Auerbach? Or teaming with Hall of Fame players such as Bob Davies, Red Holzman, Tom Heinsohn, Bob Cousy, Bill Sharman, Frank Ramsey, Sam Jones and, of course, Russell? Risen can. He is in select company, and yet most of us miss the fact that Risen is basketball royalty himself, a player who was there at the dawn of a league, his contributions to the game substantial, his place in history rewarded with the game's highest honor – a rightful spot in the Naismith Memorial Basketball Hall of Fame.
Celtic Nation is honored to bring you this interview.