THE PRODUCER
The Jerry Sichting Interview
By: Michael D. McClellan | Friday, November 3rd, 2006

---
You were selected in the fourth round of the 1979 NBA Draft, by the Golden State Warriors. Please tell me about that training camp, and also about the two players with past and soon-to-be future ties with the Boston Celtics – Jo Jo White and Robert Parish.

It was an eye-opener. Like any rookie coming into the league, I didn't know quite what to expect. It's a huge jump up in talent.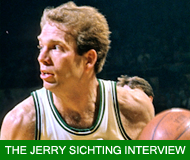 Golden State had some older guards that were on guaranteed contracts. A couple of them were kind of on their way out, but they had guaranteed contracts, which was Jo Jo White's situation. I think that might have been his last year. John Lucas was there. Phil Smith – he might have gotten injured that year, but he was one of the team's mainstays from that 1975 NBA championship team. I thought I had a good camp; in one of the intra-squad games I had over twenty points, but it's a numbers game, and there just wasn't a spot for me there that year. I didn't get a real good look, or get a lot of opportunities to play in the exhibition games, so I was a little bit frustrated with that. But being on the other end, several years later as a coach, I know how difficult it is when you have to make those last cuts. You know a guy can probably play in the league, but you just don't have a spot for him. So I understood that it was a numbers game, and that you had to be in the right place at the right time. I liked the Bay Area, and I was really excited about having the chance to play there, but it just didn't work out in the end.
The Warriors cut you prior to the start of the regular season, and you returned to your native Indiana to work in a sporting goods store. Please take me back to this period in your life – what did you do in the year prior to making it with the Indiana Pacers?

I thought, realistically, that I probably wasn't going to play professional basketball. The CBA at that time was kind of a loosely ran organization. It wasn't well-organized. I actually went out to Maine for a couple of days, and I just thought at that point that I wasn't going to like basketball if I put myself through the CBA lifestyle – getting in a van, and driving up-and-down the east coast and playing games, things like that. And with the guys that were on that team, I just didn't think I was going to fit in. So I resigned myself to the fact that I had a good college career, came close to making it, and ended up getting a regular job back in Indianapolis.
What I did that year was work the job, and then play in some industrial leagues and some AAU tournaments and stuff like that. I stayed somewhat in shape. The guys that I worked with at the sporting goods company were gym rats themselves. We played several times a week, and then I was in a couple of different leagues, but I wasn't in the kind of shape that I thought would lead me into the NBA.
Then the Pacers changed coaches, and had a big shakeup in their front office. Jack McKinney was coming in from the Los Angeles Lakers – he had had that bicycle accident the year before, and the Lakers had ended up winning the championship under Paul Westhead. So Jack lost his job, and the Pacers hired him. One of the first things he did was conduct something called a Walter Mitty Camp, which was when the had a bunch of guys come in for open auditions. More than anything, I think it was a way for the team to get Jack familiar with the facilities, and to get him back on the court and see how he reacted following that accident. I remember the tryout – it was nearly a hundred degrees outside, and the humidity was really high. We had our practices at Hinkle Fieldhouse on the Butler University campus. There was no air conditioning. It was supposed to be a two-day tryout, and I really didn't know if I was going to be able to come back the second day. I had told Jack that I was in pretty good shape, but I really wasn't in the shape that I'd told him. Thankfully, they ended only having a one-day camp. They invited me, and a few other guys, to the rookie camp. And from there it was just a series of tryouts. I went through the rookie camp, and they picked five guys from there to go play in the LA summer league. They had a few free agents out there joining us. The Pacers were kind of short on money in those days, and they were trying to do a lot of things on a shoestring budget, so we didn't even send a full team. I ended up meeting former Laker Walt Hazzard, who was calling himself Mahdi Abdul-Rahman at the time. He coached us, and I had to show him the plays that we were running after I made my way to California. I played in the summer league, and got invited back to veterans camp. So it was basically a series of about four different tryouts that I had to get through in order to make the team.
You played your first five seasons with the Pacers. What was it like to play against those great Celtic teams, and did you ever think that you would one day help lead them to an NBA Championship?

Well, the Celtics were obviously very good in the early '80s. I remember those games well – we actually beat them a couple of times at home. What I remember most about those games is that it was almost like playing an away game. There were so many Celtics fans in Indiana because of Larry Bird. We'd go out there for a home game, and we weren't drawing that well at the time. But when the Celtics were in town, or the Lakers or Philadelphia, we'd usually have pretty good crowds. When we'd play the Celtics, it would seem like half of the gym would be green. So we got pumped up from the fact that we finally had some people watching us play. We usually played pretty well against the Celtics at home, and like I said, we beat them a couple of times. At that point we had a real young team in Indiana, and those were our playoff games. So those were definitely the highlights of our season.
An aging George McGinnis was your teammate those first two seasons in Indy. What was he like?

George is an Indiana legend. I don't know if there's a guy to compare him to when he was in high school – I guess it would be somebody like a LeBron James. He was a man among boys. He was just so big and physically mature, and so quick at the same time. Nobody could handle him when he was a young player like that. But he only played a couple of years of college ball at Indiana, and then he went hardship and went to the ABA in the early 70s. He was just a legend at such a young age, because of what he did in high school and later at Indiana. It was fun to play with him. I still keep in touch with George, and give him a phone call or an email once in a while to catch up. Great guy. His career didn't quite go to the point where he's going to be a hall of fame player, at least not from what he accomplished as a professional, but he had some very good years in the ABA and also when he first got to Philadelphia. I tell people that I'm probably the only person to play on the same team with both McGinnis and Bird, two of the best players to ever come out of Indiana – probably the two best, with the exception of Oscar Robertson. So that was quite an experience to be able to play with George.