OPTIMIST PRIME
The M.L. Carr Interview
By: Michael D. McClellan | Thursday, March 22nd, 2012

---
To a generation of Boston Celtics fans, M.L. Carr was the towel-waving agitator best remembered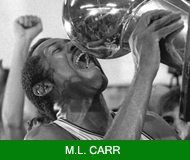 for antagonizing players and fans alike while teammates Larry Bird & Co. battled the Los Angeles Lakers in that epic 1984 NBA Finals. To another generation of fans, Carr was the Celtics' coach and general manager during some of the darkest days in franchise history, overseeing one of the team's worst seasons in a futile effort to hit lottery gold in the form of Wake Forest star Tim Duncan. Either way, Carr's mark on the Boston Celtics is indelible. He is part and parcel of the team's rich tradition and history: He is a member of the '81 and '84 Celtic teams that overcame long odds to hang banners in the old Boston Garden; he remains close to the Celtics' cognoscenti, from President of Basketball Operations Danny Ainge to legends such as Jo Jo White and Tom Heinsohn; and he remains close with Bird, with whom he partnered in a failed attempt to bring an expansion team to Charlotte, NC.
While time has marched on from those heady days during the 1980s, Carr remains fiercely proud of his connection to one of the sport's greatest franchises. Even after all of these years he pulls no punches in his distaste for the hated Lakers, Boston's biggest rival and the team that felt the full brunt of his taunting during the '84 Finals. He was thrilled when Ainge maneuvered to bring Ray Allen and Kevin Garnett to Boston during the summer of 2007, the latter instantly changing the culture and playing a huge role in ending the team's 22-year championship drought. It killed him to see the Lakers recover and win back-to-back titles, with his Celtics coming up a game short against LA in 2010.
Yes, Carr still bleeds green.
Those who know anything about Michael Leon Carr also know that he oozes energy. Spend any time at all with former Boston Celtics player / coach / general manager / motivational speaker and it's hard not to pick up on his positive vibe, the kind that makes you feel reinvigorated and ready to take on the world. Maybe it's because Carr has spent his entire life overcoming, proving the doubters wrong, and reaching heights that others would have thought unimaginable.
It's a circuitous route to success, one that started at tiny Guilford College in Greensboro, North Carolina and continued with a fifth round selection in the 1973 NBA Draft. Picked by the Kansas City Kings, Carr also found himself selected by the Kentucky Colonels of the now defunct American Basketball Association. For a good-but-not great player aspiring to a career in professional basketball, the future did indeed look bright. However, the eternal optimist from Wallace, North Carolina, quickly learned that the path to the pros wouldn't be easy; for fringe players such as Carr, there's a big difference between being drafted and actually making an opening day roster.
Carr struggled – he spent the next three years trying to break through on the professional level – but he also persevered. He was cut from three teams, including both the Kings and the Colonels, and spent a season playing overseas. Ironically, it during this period that he caught the eye of Celtics patriarch Red Auerbach, who opened up a dialog with Carr that would eventually lead him to Boston.
But as you might expect, his pathway to Boston didn't happen overnight. There were setbacks and sidetracks. And, as you might expect, Carr persevered through each leg of his journey by relying on his trademark optimism.
A year in Israel allowed Carr to hone his skills and grow as a player – Carr led Israel Sabras to a league title, topping the league in scoring and finishing second in rebounding en route to being named Most Valuable Player – and he suddenly found himself rife with options. The money was better in the fledgling rival league, as the ABA poached players in an effort to develop a fan base, so Carr decided to sign a one-year contract with the Spirits of St. Louis.
.