Top Cat
The Rick Robey Interview
By: Michael D. McClellan | Sunday, February 26th, 2012

---
He is equal parts Kentucky royalty and NBA rank-and-file, a former blue collar big man who played for two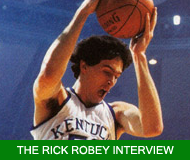 of the most storied basketball traditions the game has ever known. How many players can say they've won a national championship playing for the Kentucky Wildcats, and then gone on to win an NBA crown with the Boston Celtics?

Rick Robey can.
He can also say that he's won a state high school title at Brother Martin in Louisiana, and added an NIT championship to his Kentucky haul, effectively hitting for the cycle in terms of bringing home the hardware. And Robey is a legend in the Bluegrass State for his remarkable collegiate career, which culminated with that national championship and with him being named a consensus NCAA All-American Second Team selection (1978).
Growing up, Robey moved frequently, with stops in Florida, Tennessee and Alaska before his family settled in New Orleans. By then he was big, strong, and quickly making a name for himself on the basketball court – so much so that, by his senior season at Brother Martin, Robey was being recruited by almost all of the top programs in the country. He quickly narrowed his choices to Notre Dame and Kentucky, eventually settling on the Wildcats.
Prior to Robey's arrival, the UK basketball program was in a transition of sorts, and everyone involved was refocused on reaching the college game's biggest stage. There was much angst, as legendary coach Adolph Rupp had retired following the 1972 season. Rupp, the architect of all four of the school's previous tournament champions, was an iconic and beloved figure in the state, and his legacy cast a long shadow. Replacing him on the bench would be incredibly difficult. Into this cauldron stepped Joe B. Hall, who had won a championship playing for Rupp in 1949, and who seemed perfectly suited to the challenge of trying to win the school's first title since 1958. Hall guided Kentucky to an SEC championship and an Elite Eight finish in his first season, but the team regressed during the 1973-74 campaign, finishing with a 13-13 record and failing to qualify for the tournament. While the honeymoon was far from over, there were pocketed grumblings among the Wildcats' rabid fan base calling for Hall's firing.

Fortunately for Hall, he was able to leverage the program's brand appeal to recruit top-shelf talent. Among the blue chip players buying into the Kentucky mystique was Robey, the raw-boned big man from Louisiana. Robey started as a freshman; he and and the rest of the Wildcats quickly recaptured the SEC championship, qualifying for the NCAA Tournament and stunning heavily favored and previously undefeated Indiana 92-90 in a regional final. Back in the Final Four, Kentucky would defeat Syracuse before falling to UCLA in John Wooden's last game as head coach.
An NIT title would come the following season, with Robey missing half of the games due to a knee injury and creating a hole in the Wildcat offensive scheme. Kentucky would reach the Elite Eight during Robey's junior year, setting up a storybook ending to his final season, which would end with an opportunity to claim Kentucky's first national championship in 20 years. In the way: A Duke team led by Jim Spanarkel and Mike Gminski, and in search of its first-ever tournament championship.

The final game may forever be remembered for Jack Given's 41-point outburst, but perhaps equally important was Robey's 20-point (on 8-of-11 shooting), 11-rebound performance. His hard-nosed play also helped nullify Duke's size advantage in the paint. And just like that, Kentucky – with Robey starring as a key central figure – was once again on top of the college basketball world.
The Celtics clicked on all cylinders during Kite's rookie year. The team had added Dennis Johnson via trade during the off-season, with the Phoenix Suns' asking price coming in the form of center Rick Robey. For the Celtics, the addition of DJ proved to be brilliant. Johnson brought lock-down defense and clutch shooting to the back-court, something that had been missing the previous two seasons. It also created an opening for a big man, and Auerbach didn't hesitate to select Kite late in the first round of the draft.