TRIGGER MAN
The Tom Heinsohn Interview
By: Michael D. McClellan | Friday, August 3rd, 2006

---
He is perhaps the single most overlooked player in the Boston Celtics' storied pantheon of greatness, his arrival coinciding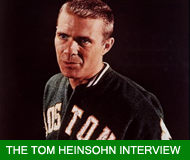 with that of a certain shot-blocking, game-altering, paradigm-shifting center named Bill Russell, his place on the 1956-57 roster anything but guaranteed, his considerable basketball talent initially overshadowed by the dazzling ball handling of fellow Holy Cross alum Bob Cousy and the deadeye marksmanship of the gifted Bill Sharman. There would soon be other marquee players added to the mix, future hall-of-famers such as John Havlicek and the Jones Boys, KC and Sam, further obscuring the contributions of one Thomas William Heinsohn, and yet his very arrival helped cement a roster on the rise send the Boston Celtics on an unparalleled, decade-long championship feast.
In many ways, Heinsohn was the trigger man for that untouchable run of eleven titles in thirteen seasons; with Russell in Melbourne, missing the first 24 games of 1956-57 regular season to compete in the Olympic Games, Heinsohn bounded onto the NBA stage like a playful pup, chasing down rebounds and firing those patented low-trajectory jumpers en route to the league's Rookie of the Year Award. The capstone of that dream season came in Game 7 of the 1957 NBA Finals. With Cousy and Sharman both ice cold from the field, Heinsohn scored 37 points and grabbed 23 rebounds in Boston's thrilling 125-123 double-overtime win over Bob Petit and the St. Louis Hawks. It would prove to be the defining moment for Boston Celtic basketball, and in many ways the foundation of Celtic Pride: That win not only established Boston as a perennial NBA power, but it also stamped the Celtics as clutch performers obsessed with the bottom line, an unselfish team far greater than the sum of its individual parts.
Born on August 26th, 1934, in Jersey City, New Jersey, Tommy Heinsohn spent most of his early years playing traditional street games with the neighborhood children. Just across the river, Babe Ruth had transformed himself into a national icon – and the New York Yankees into an American institution – but Heinsohn was too young to be fully consumed by the Bambino's greatness. He attended Saint Paul of the Cross School through the fifth grade, and then transferred to Saint Joseph's when his family moved to nearby Union City. Raw, but eager, the determined preteen made his sixth grade team and wasted little time standing out. He was also a great listener, a trait that impressed his coaches and enabled him to close the gap on the more experienced kids. Two years later he was the leading scorer on his junior high team.
Never satisfied, the young Tommy Heinsohn continually worked hard to improve his game. He practiced with the team during the season and then practiced alone after the last game on the schedule had been played. Foul shots. Jump shots. Hook shots. He played in neighborhood pickup games and, after all of the other boys had gone home, he played in imaginary games against the collegiate giants of the day.
Heinsohn flourished at St. Michael's High School, earning all-county and all-state honors as a junior, and then earning national All-America honors as a senior. The four-year letter winner averaged an eye-popping 28 PPG during that 1951-52 season, drawing national attention and prompting an avalanche of scholarship offers. He ultimately decided on Holy Cross, then one of the preeminent basketball programs in the country, following in the collegiate footsteps of another hoops legend, Bob Cousy.
Heinsohn proved himself every bit as good as his advance billing. After spending his freshman year acclimating himself to college life (freshmen weren't allowed to play varsity ball under the rules of the day), Heinsohn went onto become a three-year letter-winner, as well as a three-time All-Conference performer. As a junior he averaged 23.3. PPG, and as a senior he set a school scoring record by averaging 27.4 PPG. The numbers could be downright spectacular – on March 1, 1956, Heinsohn scored a school-record 51 points against Boston College – or they could simply be amazing, such as the eighteen consecutive free throws made in a game against Georgetown University earlier that same season. Not surprisingly, Heinsohn finished his senior season by being honored as a consensus All-American, but perhaps even more impressive was his making the dean's list (four times in two years) and being named Holy Cross' top student-athlete.
While Heinsohn was busy graduating with honors, team owner Walter Brown and head coach Red Auerbach were preparing the Boston Celtics for a quantum leap into the NBA's elite. The plan was simple – acquire the draft rights to Bill Russell at any cost. Negotiations between the Celtics and the St. Louis Hawks resulted in Boston parting with, among other things, All-Star forward "Easy" Ed Macauley, a terrific scorer who also happened to be rail-thin and anemic on the glass. With Russell in the fold, Auerbach was convinced that his team had the dominant defensive presence that it had so sorely lacked in the paint. That the Celtics had to wait 24 games to get their prized big man in uniform was of little consequence; Brown and Auerbach both knew that Russell would be busy in Melbourne, representing the United States in the 1956 Olympic Games. The more pressing matter was finding a way to replace Macauley's offensive production. Selecting Heinsohn with a territorial pick in the 1956 NBA Draft made perfect sense, and Auerbach did just that, although he was initially skeptical about Heinsohn's ability to produce in the pros.
Heinsohn reported to camp that fall in terrific shape, perhaps the best in his life, but nothing prepared him for Auerbach's torturous practices. Nor had he ever found himself so consistently on the brunt end of a coach's wrath; Auerbach, it seemed, couldn't scream at Heinsohn enough. The rookie shrugged off the constant berating time and again, the way a private in the Army might tune out his drill instructor. Heinsohn intuitively sensed Auerbach's psychology at work; his coach knew which players responded well to fiery rhetoric, and which players needed to handled with a more gentle touch. Auerbach, for his part, could bank on his words rolling off the back of his rookie forward, that nothing personal was meant and that no offense was taken.
Tough as nails and unafraid to take the big shot, Heinsohn quickly filled the scoring void left by Macauley's departure. He averaged 16 PPG during his rookie season, proving to Auerbach that he could play exceptional basketball at the NBA level. The Celtics were once again rolling offensively, just as they had through much of the 1950s – and then things only got better when Russell joined the fold. Blocking shots and ripping down rebounds, the defensive phenom from San Francisco brought a dimension to the team that had been sorely lacking since its inception in 1946. Together, Heinsohn and Russell proved to be the missing ingredients to a championship mix, defeating the Hawks in that dramatic 1957 NBA Finals and staking claim as professional basketball's team of the future.
Heinsohn's scoring averaging increased during the 1957-58 season, to 17.8 PPG, but the Celtics failed to repeat as champions. An ankle injury to Bill Russell in the '58 Finals allowed Pettit and the Hawks to claim the title. Still, the Celtics were laying the foundation of a dynasty. Auerbach tapped future hall-of-famer Sam Jones in the first round of the 1957 NBA Draft, giving Boston another offensive weapon, and defensive stopper Satch Sanders was added three years later. The Celtics would reclaim the title in 1959, the team's second banner in three seasons, touching off an unprecedented run of eight consecutive championships. Heinsohn's 18.8 PPG average during that '58-59 season was third on the team behind Sharman and Cousy, and firmly established him as a threat to score on any possession.
The media proved far less complimentary of Heinsohn's offensive prowess. He was often skewered in print for taking too many shots, especially those considered to be low-percentage. Nicknamed "Tommy Gun" and "Ack-Ack" by his teammates, both in reference to the trigger-happy side of his game, Heinsohn nonetheless possessed a true shooter's mentality – quick to dismiss any errant field goal attempt, and confident that the next shot was going to drop. Auerbach tolerated Heinsohn's shooting binges. His team needed a gunner who wouldn't shrink away with the game on the line. Heinsohn happily obliged. He was agile enough to take his man outside, and yet he was big enough operate close to the basket. Getting off a shot was a big part of his game.