Soul Man
The Walter McCarty Interview
By: Michael D. McClellan | Friday, March 30th, 2012

---
The modern day NBA is awash with versatile big men, the kind of players who can score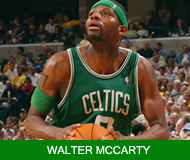 both inside and out, the kind of players who can battle underneath for the big rebound on one possession, and who can step behind the three-point line and knock down a long-distance trey on the next. Dirk Nowitzki is the prototype, but there are others – think Kevin Durant and Kevin Love and you begin to get the point.
If Nowitzki is the prototype, Walter McCarty was the precursor; the 6'10" forward could run the floor with the best of the NBA's bigs, a player equally comfortable taking the ball to the rack or spotting up to drain a three in transition. He was a better-than-average ball handler. He could defend inside out. He was truly as versatile as they come – a veritable Swiss Army Knife of a player that is so coveted in today's NBA.
Yes, it's fair to say that McCarty was ahead of his time.
McCarty's story starts in Evansville, Indiana, where he grew up a University of Kentucky Wildcats fan. Surprisingly, he wasn't into organized basketball back then – he was tall for his age, but the extent of his hoops came during pickup games at the neighborhood playground. By fifth grade he was coaxed to join a school team. He was average at best, just another average pre-teen basketball player going unnoticed by all except family who cheered the occasional field goal, but something about the game kept McCarty coming back for more.
By the end of eighth grade he was tall and gangly, but he was also growing into his body. Three years of organized ball had given him confidence in his game, and by the time he landed at Harrison High School, McCarty suddenly found himself better than most boys his age. It didn't take him long to start playing with the varsity, and by his senior year McCarty was one of the most coveted recruits in the hoops-crazed state of Indiana.
The Indiana Hoosiers recruited two Evansville products heavily during the late 1980s and early 1990s – Calbert Cheaney, who would go on to win the Wooden and Naismith awards as the national Player of the Year at Indiana, and McCarty, who was a few years younger than Cheaney and who loved the storied tradition of the Wildcat basketball program. Hoops fans in Evansville, a border town that sits just across the Ohio River from Louisville, were divided on where they wanted McCarty to play his college ball. And, as the fates would have it, a certain head coach was hired to resurrect the Wildcats and help lead it back to prominence.
That man was Rick Pitino. And if McCarty was ever on the fence about which school to attend, Pitino's presence in Lexington was more than enough to seal the deal. And just like that, McCarty and Pitino became inexorably linked, their paths destined to cross at both collegiate and professional levels.
McCarty had played AAU ball with the likes of Tony Delk and Jared Prickett, and while that was a key factor in his decision, Pitino and his style of basketball was perfectly suited to McCarty's versatility. It didn't hurt that Pitino was also a master recruiter, and that he was quickly able to rebuild UK into one of a perennial national contender.